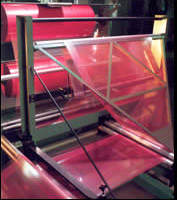 Linpark Plastics carries multilayer films, poly bags, shrink wrap, lamination films, sheeting, garment and tubing in large or small sizes, large or small quantities, standard stock or custom. If you don't see what you need, if you're not sure what you need, just ask us. We develop creative solutions for our clients so they can focus on their business.
We use FDA Approved Linear Grade Resins, Sheeting for Form Fill & Seal, high slip, Additives: UVI, Anti-Block, Anti-Stat, flame retardant and
EVA. We carry specialty bags that are biodegradable or photodegradable, tamper evident or Biohazard, wicketed or ziplock.
Our PVC Shrink Films offer high slip, high mechanical strength, low temperature shrink, and good protection for the product. They have excellent clarity of transparency and gloss for superior product enhancement.

Flat and centerfold, biax and preferential, our PVC Shrink Films are suitable for wrapping various industrial and food products with semi-automatic packaging machines. Available in a wide range of thicknesses, lengths, widths, shrink percentages, centerfold or flat, plain or printed, our PVC Shrink Films are adaptable to different specifications.

PRODUCT APPLICATIONS
| | | |
| --- | --- | --- |
| Shrink Films: better characteristics, advanced physical properties, significant yield | Gaylord/Combo Liners: advanced resins, superior strength, 30% average downgrade | Form Fill & Seal: barrier properties, easy machinability, excellent sealability |
| Inserter Bags: reverse wind, tubing, POR, static free, no blocking | | |
| | | Single Wound Sheet/Interleave |
| | | 50/30/20 Monolayer Blends |
| | | |